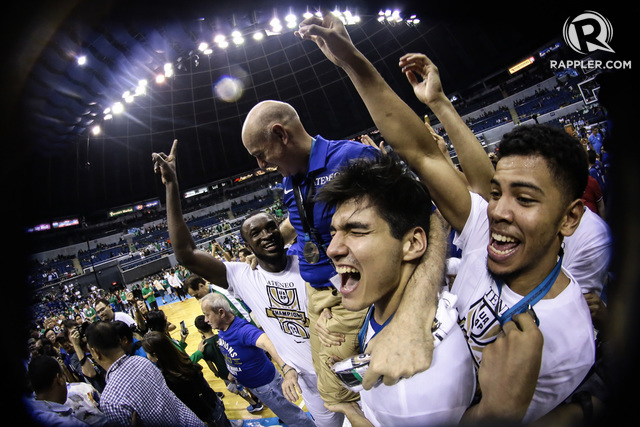 UNFAZED. M.V.P. never really doubted the Blue Eagles since day one. Photo by Josh Albelda/Rappler
MANILA, Phillippines – As everyone waited for what gift the Ateneo Blue Eagles' benefactor Manny V. Pangilinan (M.V.P.) will give the UAAP Season 80 men's basketball champions, all he had to do was cross his fingers to make an "X" sign.
M.V.P. told the Ateneo community in a speech on Sunday night, December 3, during the Thanksgiving Mass at the Church of Gesu inside the Ateneo de Manila University campus that he will reward each Blue Eagle an Iphone X. This is aside from the all-expenses-paid trip of the team to Hong Kong where Pangilinan and the Ateneo coaching staff will be planning out Season 81.
"And I'm happy for them to be my guests in Hong Kong. We just have to coordinate with the schedule of coach Tab," added Pangilinan after announcing the Iphone X giveaways.
"Two weeks after closing out the season, we would usually sit down with the coaches and plan for the next season."
In his speech, M.V.P. recalled that he felt "uneasy" in the Blue Eagles' finals game 2 loss to the archrivals De La Salle University Green Archers. But his belief in the potential of the Blue Eagles remained unfazed as they brought the UAAP title back to Katipunan after 5 years.
— Manny V. Pangilinan (@iamMVP) December 3, 2017
"Finally the championship is back in Loyola and it's full redemption to keep it here for as long as we can," said Pangilinan in his opening words. "Fr. Jett is very happy tonight and I'm actually more gay than happy because after Wednesday, I really felt uneasy."
"You won because of the hard work, the discipline, the focus, the determination and you won without resulting to other means."
Being a benefactor of various sports teams in the Philippines, Pangilinan was already assured of the potential of the Blue Eagles since day one of UAAP Season 80 and that they already made a place in his heart.
"From the first time I saw this team play, this team is quite special to me, like their first game was against Adamson right? I have been exposed to a lot of basketball my whole life but this team had the potential to win from the first game." – Rappler.com
M.V.P. expresses his happiness of overcoming an "uneasy" feeling in game 2's loss by giving Iphone Xs to each Blue Eagle and an all-expenses-paid trip to Hong Kong