What is a laptop even for any more?
The question has been playing on my mind lately, since before I received a review unit of Microsoft's new Surface Book 2. I'm writing this on a train on a Bluetooth keyboard connected to my iPad; statistically, you're most likely reading it on a phone. Recent leaps in power-efficient processors means either of those is perfectly capable enough to tackle most computing tasks.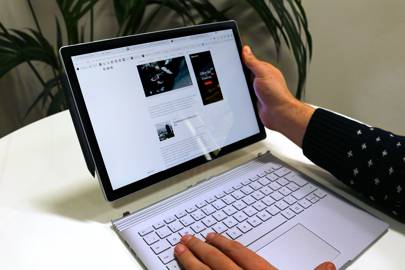 Full credit to Microsoft: they have been making this argument in recent years with the Surface line – that the old terminology is outdated. The Surface line – from the entry-level Pro to the stunning and stunningly-expensive Surface Studio – are all part of one family; a shared language. Most ordinary users don't need the power of a Surface Book 2 and will be happy with a Surface Pro. But Microsoft knows that many people need a workhorse computer, one that can handle anything they throw at it – including creative pen inputs, video editing, external monitors – but can be slung in a bag at the end of the day.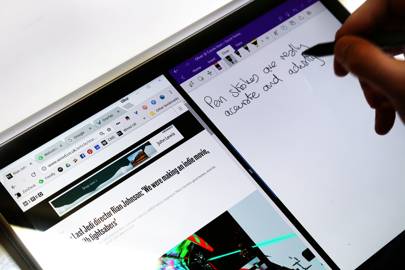 check Ars Technica's review or another site for confirmation.) The Book 2 comes in two sizes, 13.5in (which I tested) or 15in, with the latest Intel i5 or i7 processors, NVIDIA GeForce GTX 1050 GPUs, upwards of 8GB RAm and up to 1TB of SSD storage. (The exception: the entry-level 13.5in model, which runs on last year's Kaby Lake-gen processors.)
Hardware wise, the machine is tweaked slightly from its predecessor, though you'd be hard-pushed to notice. It's a little slimmer, a little more curved, and the hinge a little more robust. It's an undeniably beautiful piece of design. The display, in particular, is absolutely glorious, with rich colour, crisp details and that delightful Microsoft-favoured aspect ratio. It's wonderful to touch, too – crisp and responsive. The Surface Book 2, paired with the new Surface Pen (now sold separately, which is frankly in insult when you've spent £1,499+ on a 2-in-1 machine) is the best drawing and note-taking experience I've ever had on a device. Note taking in split screen while paired with One Note or Myscript Nebo's impressive handwriting-to-text features is almost enough to sell me one outright, it's that natural.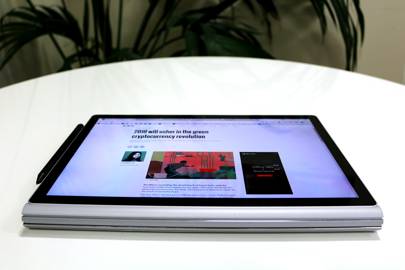 The Surface Book 2 is also a capable gaming machine – you won't compete with a dedicated gaming laptop or a desktop build, but it's competent, and pairs nicely in viewing mode with an Xbox One controller. Other sites have reported battery drain issues when playing games at high settings; I haven't tested this, but had no battery issues; I typically got eight to nine hours or more for moderate usage – Chrome, Slack, streaming, and some tablet/Surface Pen work.
In other words, this is a serious laptop for Windows power users. There are certainly some minor niggles: only one USB-C port and no Thunderbolt 3 is a peculiar choice for a professional-grade machine, but otherwise this is clearly designed for today's practicality in mind – not some future-proof-but-for-now-dongle-filled Apple vision. Windows 10 is still, well, Windows 10. And while it's a powerful, beautiful piece of design, it has a price to match; the entry level is about the expense of a MacBook Pro.
recent disappointing MacBook Pro updates have you considering a switch – give the Surface Book 2 a try. You might find you love it.
More than anything, the Surface Book 2 is a final endorsement of Microsoft's vision for the Surface – and a repudiation of Apple's recent missteps in design (the Touch Bar, butterfly keyboard, lightning connector, FaceID notch… I could go on).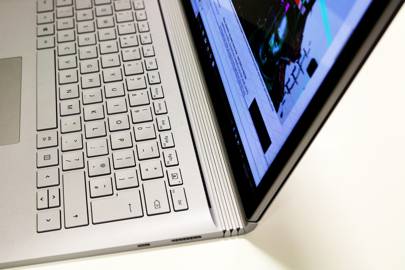 Steve Jobs was wrong when he claimed nobody wants a touch screen on their productivity device (I do). Why Apple stands by this claim while simultaneously hawking the iPad line is downright baffling. Tim Cook has decided the future of computing is products delineated by function –– refusing to give the iPad mouse compatibility; no touchscreens on laptops – Microsoft merely by the power needed for the task at hand. Microsoft thinks devices like this are the future of computing and, after a week with the Surface Book 2, I believe they may be right.
If you're after a high-powered, inventive, great-looking laptop right now, the Surface Book 2 is a great choice. If not, hold on a while. The next wave of processors will bring LTE-connectivity to productivity machines, and even better battery life. In that sense, the Surface Book 2 is a stop-gap, a taster. The Surface Book 2 in many ways, doesn't feel like a sequel. The best is yet to come.
8 / 10