Power up your MacBook Pro on the go with Omnicharge's USB-C charger
Startup Omnicharge was at CES on Monday to show off its latest product, the Omni 20 USB-C, a portable power USB-C bank capable of outputting up to 100 watts of power for charging larger devices like Apple's MacBook Pro.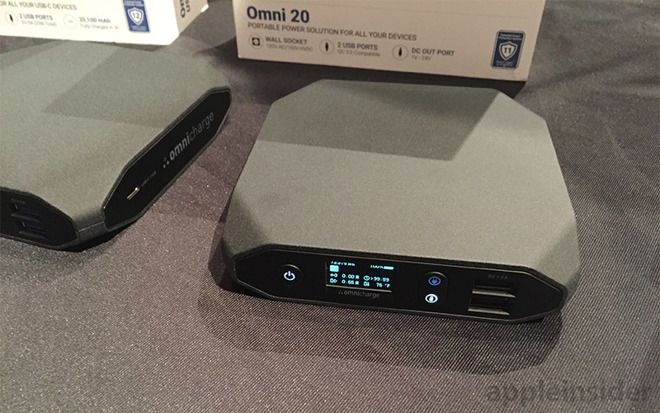 Originally an Indiegogo project, Omni 20 USB-C features four ports, two USB-C and two USB-A, and a capacious 20,100 mAh battery cell for juicing up laptops, smartphones, digital cameras and more.
Unlike other portable power banks that max out at lower amperages, including older Omnicharge products, the Omni 20 USB-C can output up to 100W from its two USB-C ports, one at 60W and the other at 40W. USB-A charging is capped at 30W, or 15W each for the pair.
The device is a perfect fit for owners of Apple's 13-inch MacBook Pro, which ships with a 61W wall charger.
Impressively, the power bank can be recharged in only 3 hours when using a 40W USB-C input. The 1.1 pound unit is also portable, coming in at 5 inches by 4.8 inches and only 1.1 inches thick, making it suitable for on-the-go carry.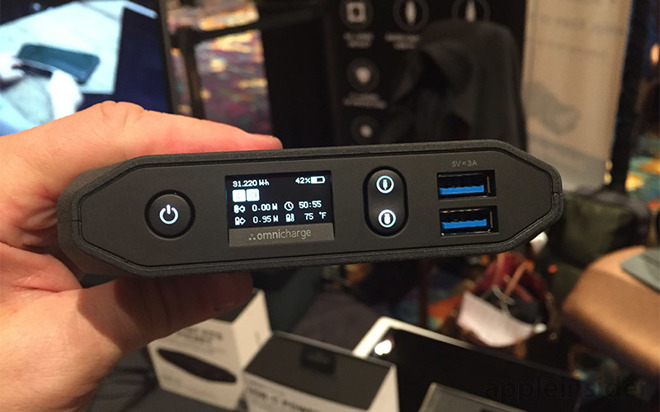 In addition to feeding power to connected devices, the charger doubles as a USB hub. Users can connect a hard drive or USB memory stick to an available port and transfer files to their MacBook Pro while powering up.
A patented power protection system and OLED screen rounds out Omni 20 USB-C's feature list, the latter of which displays data like battery temperature, incoming and outgoing voltage levels and charge level.
The Omni 20 USB-C is available for $169 from the Omnicharge website.
Today's Headlines
No news headlines yet today
2016 13″ MacBook Pros
Price
Save
2.0GHz/8/256GB (Silver)
$1,349.00+
$150
2016 15″ MacBook Pros
Price
Save
2.6/16/256GB/450 (Gray)
$1,799.00+
$600
2.7/16/512GB/455 (Gray)
$1,999.00+
$800
2.9GHz/16/512GB (Gray)
$2,099.00+
$800
2.9/16/1TB/460 (Gray)
$2,499.00+
$1000
2.9/16/1TB/460 (Silver)
$2,499.00+
$1000
2017 15″ MacBook Pros
Price
Save
2.8/16/256GB/555 (Gray)
$2,299.00+
$100
2.8/16/512GB/555 (Gray)
$2,499.00+
$100
2.9/16/512GB/560 (Gray)
$2,649.00+
$150
2.9/16/512GB/560 (Silver)
$2,599.00+
$200
3.1/16/512GB/560 (Gray)
$2,799.00+
$200
Click here for dozens more configurations
+ No sales tax collected on orders outside NY & NJ
Lowest Prices Anywhere!
13″ MacBook Pros
Price
You Save
3.1GHz/8GB/256GB Gray
$120.00
3.1GHz/8GB/256GB Silver
$95.00
3.1GHz/8GB/512GB Gray
$150.00
3.1GHz/16/512GB Gray
$100.00
15″ MacBook Pro
Price
You Save
2.8GHz/16/256/555 Silver
$200.00
2.8GHz/16/256/560 Gray
$200.00
2.9GHz/16/512/560 Gray
$200.00
2.9GHz/16/1TB/560 Gray
$200.00
3.1GHz/16/512/560 Gray
$200.00
3.1GHz/16/2TB/560 Gray
$300.00

* price with Promo Code:

prices.appleinsider.com for more configurations