With Mexico failing to advance beyond the Round of 16 for the seventh consecutive World Cup and South America failing to send a representative to the semifinals for the first time since 2006, a myriad of coaching changes are expected in both CONMEBOL and CONCACAF over the coming weeks. Key to all this is Mexico manager Juan Carlos Osorio, who's expected to step down from his role when his contract expires at the end of the month.
It's been rumored Osorio could be the long-awaited USMNT coaching hire or that he could replace Jose Pekerman as manager of Colombia. The 68-year-old's job is reportedly in jeopardy after a disappointing showing against England in the Round of 16.
The coaching carousel really heats up here as Pekerman is then rumored to have eyes on a technical director role with Argentina. Argentina, of course, is in the midst of a messy divorce with Jorge Sampaoli. The Argentine Football Association paid heavily to prize Sampaoli from Sevilla back in June of 2017, but a horrid World Cup for the coach — it was rumored that a player coup had effectively transformed Sampaoli's role into that of figurehead by the end of the tournament — likely means he'll be given his marching orders.
Sampaoli admitted that his idea of playing had never translated to La Albiceleste and was unworkable given the shortness of his tenure and the demands of the window in which he had to work: "I think that we adapted to necessity, maybe, rather than having a clear idea," he said. "We had a clear need, we had to win. That was our main goal, and that was maybe stronger than our football concept."
Regardless, the 58-year-old Argentine remains a hugely respected trainer and will have no shortage of suitors (or cash) following his dismissal. Interestingly, Sampaoli is now being touted as a replacement for Osorio.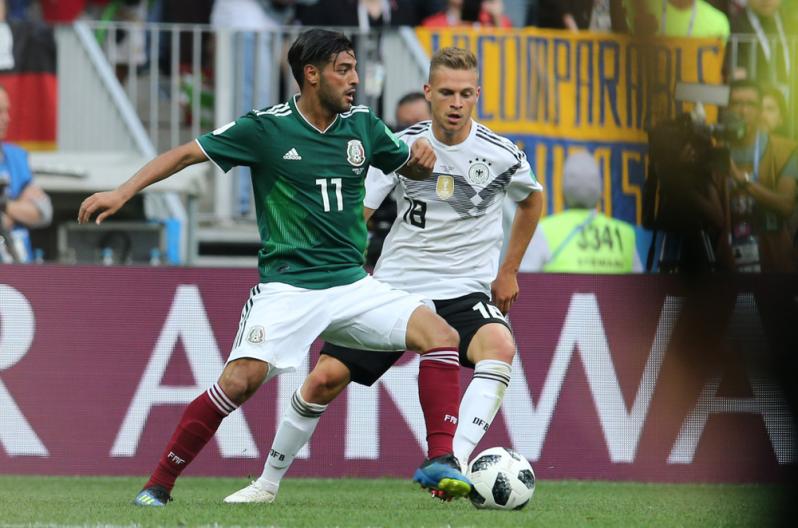 Osorio was praised for Mexico's approach against Germany. Photo: Shutterstock
He's an intriguing option, but the front-runner for many is former Chivas manager Matias Almeyda. The 44-year-old Argentine stepped down from his role at Guadalajara in June, just months after leading the club to glory in the CONCACAF Champions League.
He's since made no secret of his desire to coach El Tri, saying: "Yes, you work for that (opportunity to coach Mexico). But there are other candidates. Now that I have no club, of course I do. If it were that easy, yes. If it were to happen one day, I would express everything I feel about it."
Mexico plays two friendlies in September, the first is against Uruguay in Houston, and that's followed by a match against the USMNT in Nashville on Sept. 11.