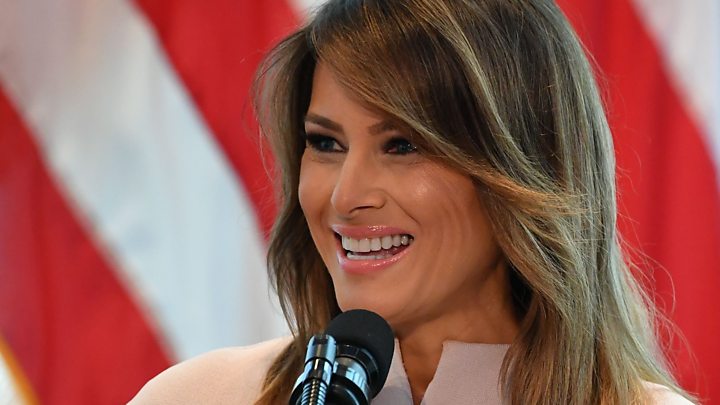 US First Lady Melania Trump has arrived in Ghana's capital, Accra, in a solo trip that will see her visit four African countries.
The tour will focus on promoting health care and education programmes run by US foreign aid organisation USAID.
She will also visit Kenya, Malawi and Egypt to foster diplomatic relations.
In February, a row broke out after President Donald Trump allegedly used the word "shithole" to describe African nations.
Mrs Trump's trip to the continent is seen as helping to heal some of the divisions.
She will also promote her Be Best initiative which aims to tackle issues such as cyberbullying and boost healthy living. She tweeted that the campaign was going "international".
End of Twitter post by @FLOTUS
Mrs Trump said ahead of her trip that she was looking forward to visit "four beautiful and very different countries in Africa".
"She is interested in Africa because she has never been before and knows that each country will have its own unique history and culture." Stephanie Grisham, her communications director, said.
What does President Trump think of Africa?
Ahead of his wife's trip to Africa President Trump told reporters: "We both love Africa. Africa is so beautiful. The most beautiful part of the world, in many ways."
This view is at odds with comments he allegedly made in a private discussion in February,
Mr Trump was accused of racism, after he was reported to have used the word "shithole" to refer to African nations when talking about immigration policy.
The African Union asked him to apologise over the comment.
He later told reporters: "I am not a racist. I'm the least racist person you have ever interviewed."
In August the president angered the South African government by falsely claiming that there was large-scale killing of white farmers in South Africa.
End of Twitter post by @realDonaldTrump
The South African government reacted swiftly to refute Mr Trump's assertion that white South Africans were being targeted.
It is not known if Mr Trump ever visited Africa before he became president or whether he had any business links with Africa.
What is the administration's Africa policy?
President Trump has not paid much attention to the continent, but has welcomed three African leaders, the presidents of Egypt, Nigeria and Kenya, to the White House.
When Rex Tillerson, Mr Trump's first secretary of state, visited Africa in March he said the themes of his trip were: counterterrorism, democracy, governance, trade and investment.
Mr Tillerson warned Africa of China's economic engagement with the continent which he said encouraged dependency, utilised corrupt deals and endangered its natural resources.
He also announced a $533m (£380m) humanitarian African aid plan.
On the counterterrorism front Mr Trump's administration has escalated the fight against Islamist militants in the Sahel region and in Somalia.
The US has set up a drone base in Niger which is operated by the CIA.