Inside Lindsay Lohan's Complicated Post-Hollywood Life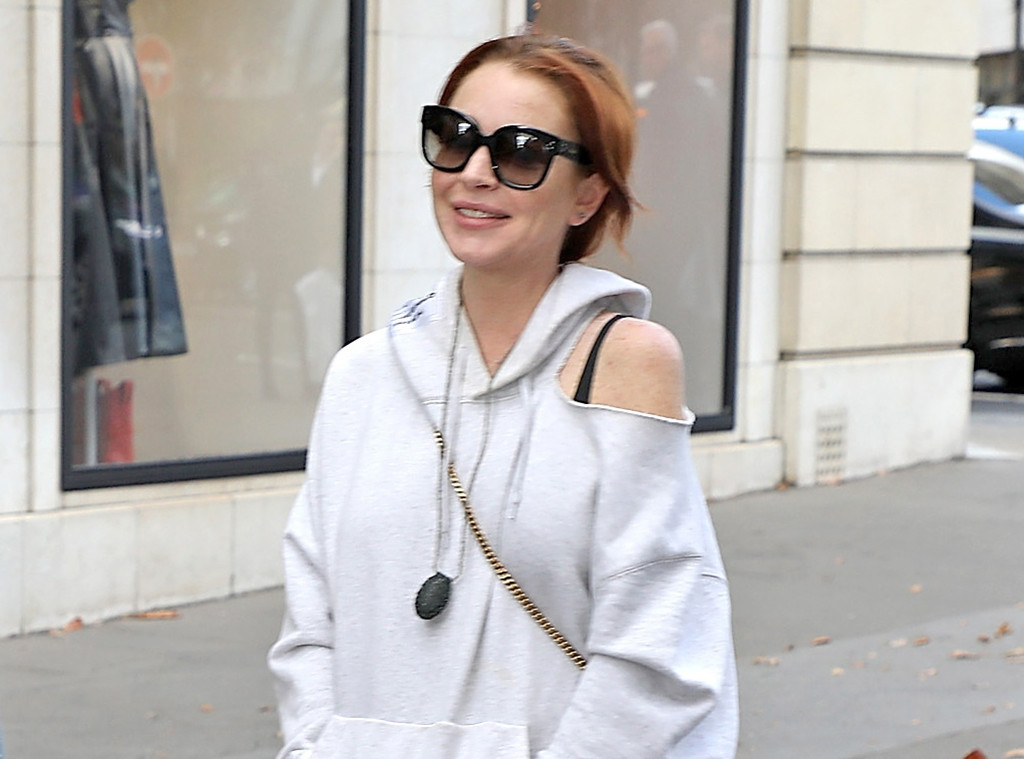 And she didn't just leave Hollywood. She left America, moving first to London to ostensibly pursue some peace and quiet, after which she found even more hospitable environs in Dubai and on the beaches of Mykonos, where she partied this summer with well-heeled revelers such as Tiffany Trump and has opened a bustling beach club.
"There's a business side to my life now, but I'm not in America, so no one knows about it, which is nice for me," Lohan this summer. "Because I get to actually focus on the result of things." She particularly liked Dubai, she explained, because it's "less demanding. America is always like, 'Go go go go go!' I don't have to turn on the news and see about the Kardashians. I don't have to see anything anymore. I choose what I want to see and how I want to live."
In between, she's traveled the world, sharing her adventures from the likes of Turkey, Thailand, Mauritius and Bali with her 6.8 million Instagram followers. Her adventures now include figuring out plot lines for an MTV show in the works about the Lohan Beach Club—and they may have just taken her to Russia, where a bizarre encounter that she chronicled on Instagram Story left the Internet squirming late Friday night as "Lindsay Lohan" became, once again, a trending topic.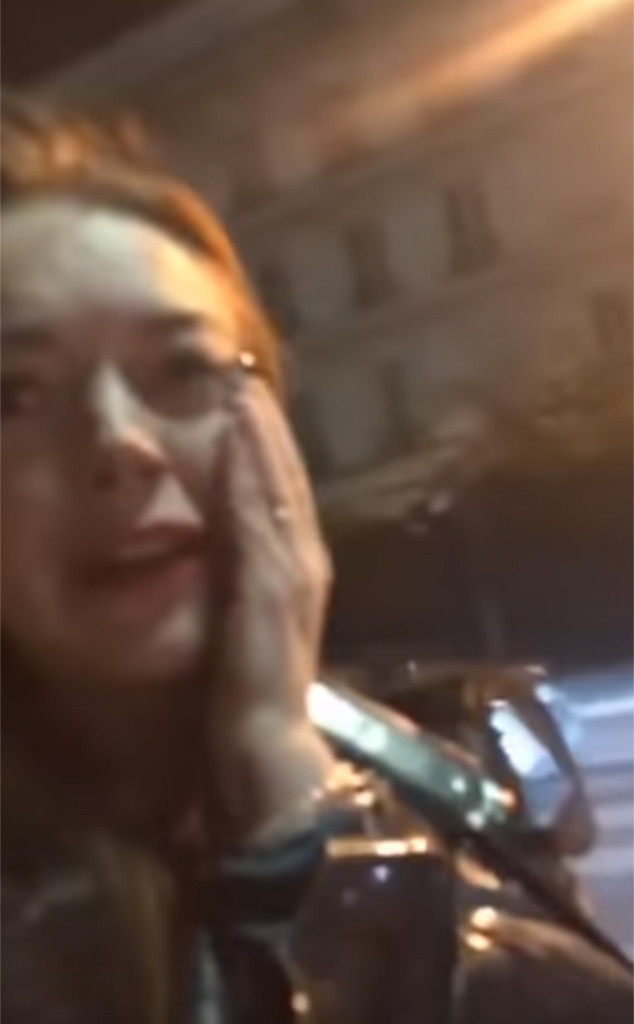 E! News has reached out to Lohan for comment. Her inexplicable behavior, which resulted in a woman seemingly striking the actress or otherwise insisting that Lohan stop following her and her family (Lohan claimed they were Syrian refugees and was entreating the children to go with her), was the latest in a series of incidents—albeit fewer and farther between than the hey-day of Lindsay headline mania—that call into question what, exactly, the 32-year-old actress has in mind for her next chapter of public life.
Because, after understandably wanting to be left alone for awhile, she does seem to want a public life.
It's been almost five years since Lohan shot the eight-part OWN docu-series Lindsay, which at the time felt like a valiant effort on executive producer Oprah Winfrey's part to help Lohan put the troubles of the prior five years before that behind her for good. 
The child star turned uninsurable actress and tabloid magnet, having just completed 90 days of court-ordered rehab, had said on Oprah's Next Chapter in August 2013 that she was "ready to get the thing that's made me the happiest my whole life back, which is just work really hard and stay focused and prove myself in the way that I did before in the past that I lost.
"I have to regain the trust of people in my career that have their doubts and I fully respect that on their behalf."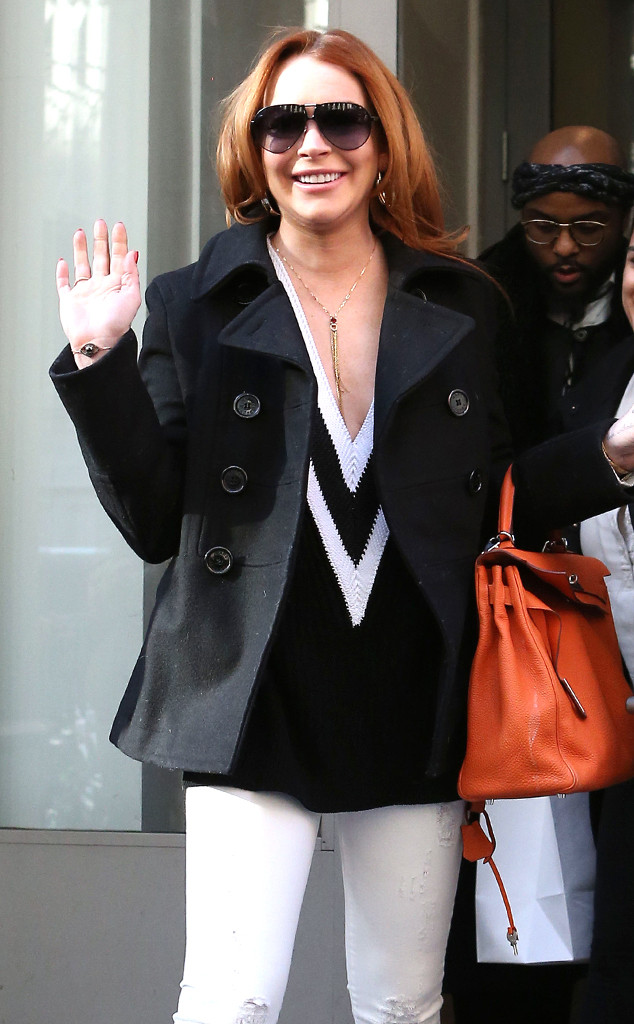 The series, which premiered in March 2014, followed Lohan's move back to her native New York after years of being based in L.A., and featured Oprah herself telling Lindsay to "cut the bulls–t" when the star's unpredictability messed with everybody else's schedule one too many times.
"There've been bumpety-bumps, bumpety bumps," Winfrey told E! News in January 2014. "But as far as I know, as of right now, whatever time this is, we're still filming. And that's a part of it, that's part of life, that's part of coming out and trying to put your life together."
It was never Lohan's talent level that was the problem, of course. It was the substance abuse issues that led to jail time, rehab, what felt like an interminable amount of probation and behavior that ultimately resulted in her becoming less and less desirable to work with—though there were countless people who tried in hopes that they could re-summon the undeniable appeal that had made her an overnight star.
"It gets really bad sometimes, what people say. But the good part of it is people are taking the time to make things up about me. It's very flattering. Also, you know, when you come into this business, you aspire to have that recognition and be in those tabloids. If you're not, it's like nobody cares. Yeah. Then you're wondering why they're not writing about you."
Lohan, fresh from her Mean Girls success and having just recorded her own album, said that all the way back in 2004, after she was briefly hospitalized for exhaustion and it had become obvious that the paparazzi weren't going to let her turn 18 without their constant companionship.
About her frequent cameos at 21-and-over nightclubs, the then only 18-year-old star , "We made a deal where they let me come in and I'll drink only Red Bull. If I wanted to drink, I'd just stay home and do it with my friends. I don't do drugs. Never have, never will. I don't need to do that stuff to have fun."
It was only the beginning of what become a torturous, years-long journey of stumbles amid the success, Lohan at first courting the attention but soon enough realizing that it had cannibalized why she was famous in the first place. And at some point, she started enhancing her fun with alcohol, resulting in her first DUI arrest in May 2007.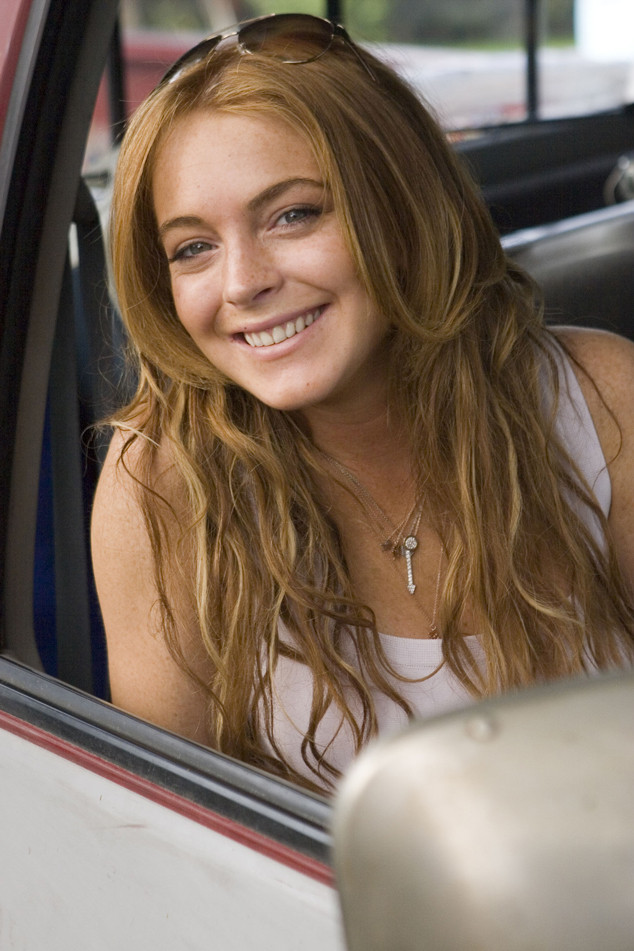 Her ensuing legal travails were the stuff of celebrity-meltdown legend, to be interspersed occasionally with hyped but ultimately lackluster projects, including her turn as a stripper in 2007's I Know Who Killed Me; Labor Pains, the 2009 ABC Family movie that was supposed to be a big-screen release; playing Elizabeth Taylor in the unfortunate Lifetime biopic Liz & Dick; and the 2013 indie TheCanyon co-starringporn actor JamesDeen. She worried Jane Fonda with her behavior on the set of Georgia Rule, got banned (temporarily) from Chateau Marmont after failing to pay a $46,000 bill, and posed nude for Playboy, her Marilyn Monroe-themed shoot an eerie homage to a troubled, misunderstood legend whose talent was sorely underrated.
"Today I am a free man. For the last 18 months I have been a hostage, of my own choosing, to a very talented but unpredictable actress," The Canyons director Paul Schrader said in 2013 when the film premiered at the Venice Film Festival, without Lohan in attendance.
At the same time, small ensemble parts, TV guest arcs, comedic cameos and unexpected video shorts were always enjoyable and served as refreshing reminders that Lohan still had charm and star power to spare.
Theo Wargo/NBC/Getty Images for 'The Tonight Show Starring Jimmy Fallon'
"She was late one day," Fonda told CBS News in 2007, talking about reports of Lohan's chronic tardiness during production on Georgia Rule, "and I got mad, and went in and said, 'Get your [bleep] out here!' I raised my voice, and she said to her makeup person, 'Barbarella, she just yelled at me!'" When the cameras were rolling, the two-time Oscar winner added, Lohan was great.
"You know," Fonda also said, "I've got—what's really important for an actor—and I said this to Lindsay—you gotta have more than celebrity. You gotta have stuff in your life that has nothing to do with the celebrity part. Otherwise, it can get pretty empty. You're never No. 1 forever. It just doesn't last. And I just feel lucky that I've always had more in my life."
There's too much to parse through all that happened in the interim, but eight years later, Fonda looked into the camera on Watch What Happens Live and said, "Lindsay Lohan, one piece of advice. Come live with me for awhile and get a sense of what normal is supposed to be like."
That was in response to a fan asking what advice she had for her former co-star.
Meaning, people were still worried about and rooting for Lohan in 2015.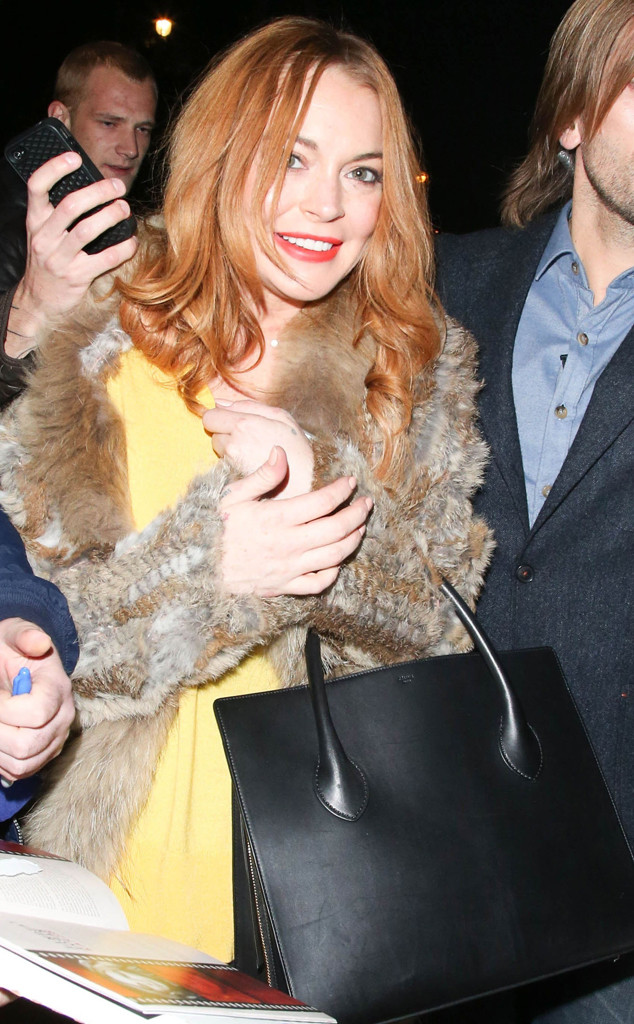 The previous year, Lohan had decamped to London, hoping to hit restart on her acting career. Fairly quickly she landed a role in a West End production of David Mamet's Speed-the-Plow.
"People have certain perceptions of me," she told the BBC in 2014. "For a long time, people looked at me as kind of a celebrity, which is something I never wanted…That's not what I got into this industry for. I've been doing this since I was 3 years old and I've been on set since I was 6. People kind of forgot that, and I think now is a good time [to wage a comeback]. "And what better than to do it with the great people that I'm working with on stage in London…so that people can focus on the fact that I'm in this industry because I'm an actress and an artist and not just someone you take photos of?"
About her tumultuous past Lohan said, "There are certain things that I would change—I've put myself in bad situations—but I don't regret anything that's happened because I wouldn't be who I am today, I wouldn't have learned the things that I know, I wouldn't be here doing this right now."
Reviews were pretty favorable and, better yet, there were no reports of offstage antics.
Despite her determination to resettle abroad, Lohan needed to return to the U.S. in 2015 to complete a 125-hour community service requirement stemming from her 2013 no contest plea to reckless driving, lying to a peace officer and violating probation. When that was finished, Lohan was finally off probation for the first time in years.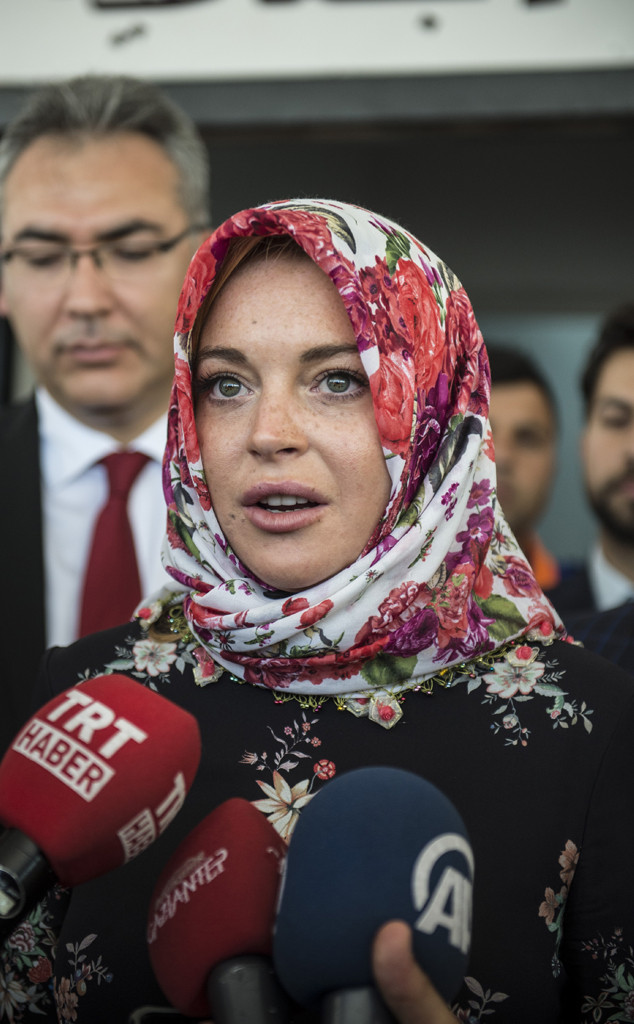 Kerem Kocalar/Anadolu Agency/Getty Images
She only acted sporadically after Speed-the-Plow, but the absence of those commitments gave her the time to pursue other interests and causes that were important to her. In October 2016 she visited with Syrian refugees in Turkey and talked about her growing interest in Islam. 
"I became very involved with meditation—Deepak Chopra, transcendental meditation," she said in an interview with a Turkish network during her visit. "This became a very big ritual of my life. I took the time to kind of take out and weed out the bad, and only keep the good. Then I moved to London because New York was too fast for me, because I slowed down and it kept going, and I couldn't keep up and I wasn't meant to. Moving to London was the best thing I've done for myself. I think as you grow up, life changes and you experience new things."
"I love giving back to people," Lohan continued, "and whether I do a movie or not, I want it to be a true story about someone's life that has occurred so people can actually see real things. I've done all these Disney movies, and these are not real things. As much as I love it and I appreciate it—and I would love to play the Little Mermaid one day—I want to talk about real things right now. I'm 30 years old and life is going to keep going, and I want it to go in the right way and to be able to control my life as I live it day by day."
Also that year she licensed her name to a nightclub in Athens, Greece, which made her interested in having her own brick-and-mortars business.
But as it turns out, drama doesn't need a passport—and England isn't exactly the celebrity-ignoring place she first envisioned it was. She remained as attractive a tabloid target as ever despite only acting sporadically.
All the papers—including the highbrow ones—proved fascinated by any instance of noticeable Lohan behavior, such as when she was photographed carrying a copy of the Quran in 2015; or when she seemingly agreed to switch on the Christmas lights in the town of Kettering in 2016 to make amends for criticizing its residents for being pro-Brexit, but her appearance never came together; or when she scrubbed her Instagram account in January 2017.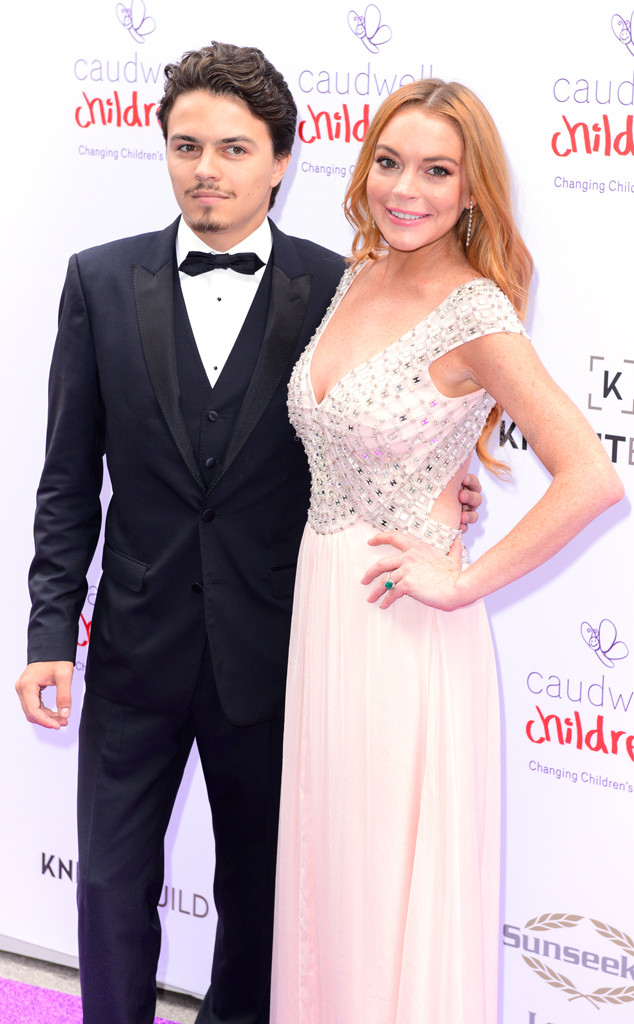 Jonathan Hordle/REX/Shutterstock
She was briefly engaged to Russian business heir Egor Tarabasov in 2016, but they broke up for good after video of them loudly fighting outside Lohan's apartment was obtained by The Sun and her suspicion that he was cheating prompted her to air many feelings on social media. She later alleged to the Mail on Sunday that Tarabasov had been abusive on multiple occasions and, though she had tried to make it work, "I realize now you can't stay in a relationship just for love. No woman can be hit and stay with that person if that person isn't prepared to say sorry." (Tarabasov denied claims he'd been abusive, telling E! News that Lohan was trying to smear his name.) 
In February 2017, she said on Good Morning Britain that she had been profiled by a security screener at London's Heathrow Airport, while on her way to New York, because she was wearing a headscarf."She opened my passport and saw 'Lindsay Lohan' and started immediately apologizing but then said, 'Please take off your head scarf,'" Lohan recalled. She remembered thinking, "'How would another woman who doesn't feel comfortable taking off her headscarf feel?' That was really interesting to me." (In response, Heathrow said it respected the "cultural and religious needs of all passengers" while simultaneously ensuring passengers' safety and security.)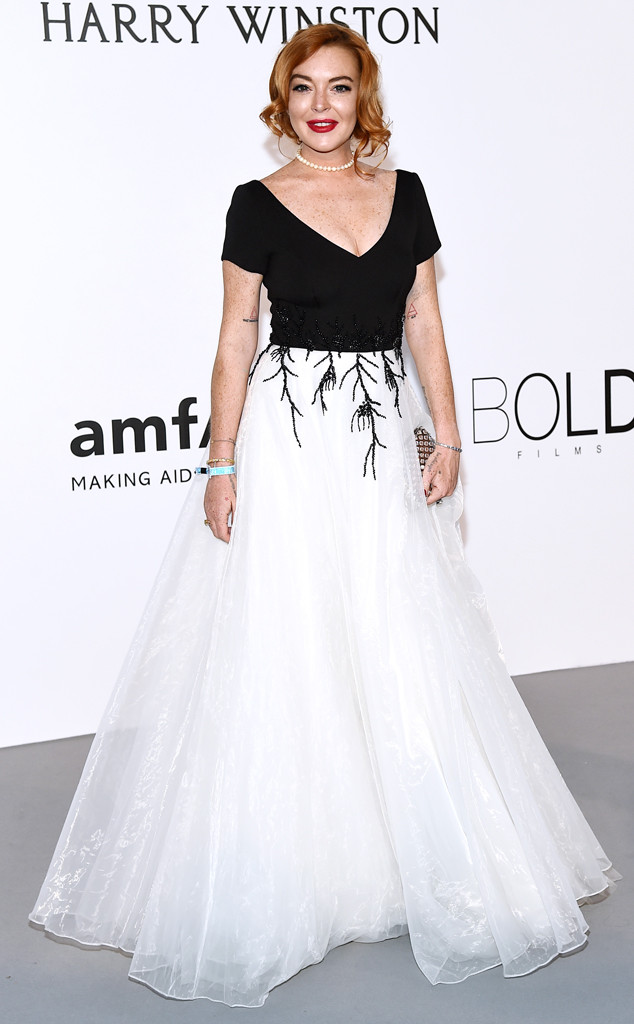 Buckner/Variety/REX/Shutterstock
Meanwhile, she continued to frequent various international hot spots.
"This is very overwhelming here," Lohan Jason Kennedyat the 2017 Cannes Film Festival that May. "I haven't really been around anything having to do with Hollywood in a long time." She missed acting, she admitted, "but at the same time, I'm creating a bunch of different things on my own so I want to focus on what I'm doing."
She continued, "I think there's a lot of noise that we deal with. So I've found a kind of peace…in life with working with children, helping other people that really interest me and I think it's important for us to recognize that all of this stuff is really fun and really pretty and really glamorous and beautiful, but you have to take time for you."
Lohan had, however, signed on to join the British sitcom Sick Note, starring Nick Frost and Rupert Grint, and the acting bug appeared to be biting again. (Her episodes aired over the summer.)
In 2016 she told CNN that she had written a treatment for a Mean Girls sequel. She took to Instagram in July 2017 to tag Emma Stone in asking, "can we film a movie called Mean Girls 2 together? I think we would be friends. It would be #sofetch." Then she told E! News last December while in New York that she would love to get the original cast back together for a sequel.
"I'd love to do it again," Lohan said at the Daily Mail holiday party. "We had so much fun making it. Mark Waters is such a great director, Tina Fey is an amazing writer, Paramount was great to work with—we all had a blast."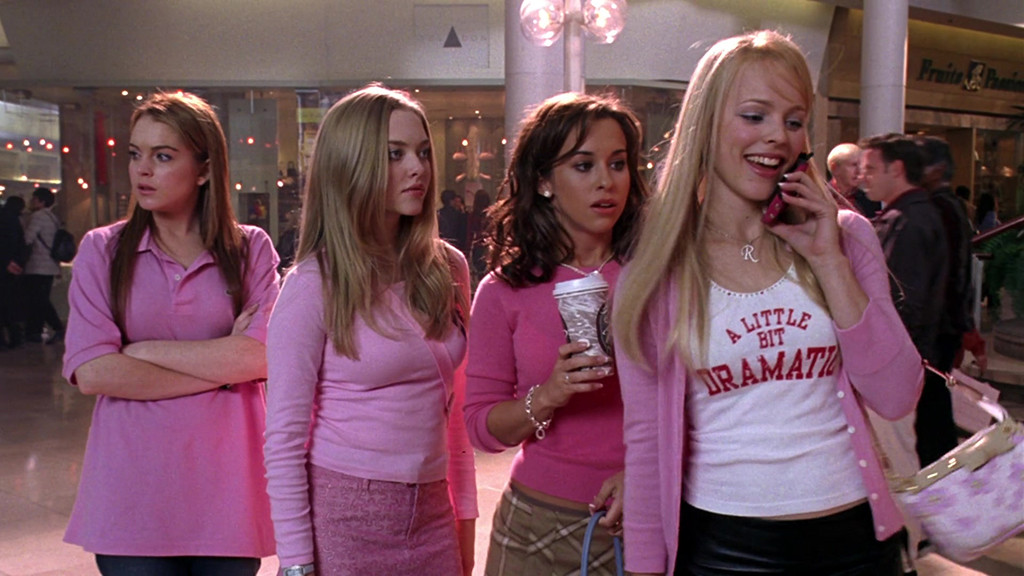 Paramount Home Entertainment
And that's apparently not all she's been doing to get the project off the ground, though the only action in the Mean Girls universe has been the Tony-nominated musical that opened this spring.
"I've harassed so many times it's becoming a bit stalker-ish," Lohan said on The Wendy Williams Show in January. "I go to SNL when I'm in town. I go to Lorne [Michaels, who produced the original film]. I run to [SNL writer-producer and Tonight Show sidekick] Steve Higgins. But, she admitted, "I think they're really focused on the Broadway show right now."
It's Mean Girls Day on Wednesday, Oct. 3, so we could be in for another installment in Lohan's epic quest to make it happen.
While it's hard to disagree with a desire to recapture a wonderful moment from her past, Lohan has also stoked controversy with her opinions on Donald Trump (she says Americans should support the president and work with him, not against him) and on the current #MeToo movement, which was triggered almost exactly a year ago after the New York Times published a story detailing numerous allegations of sexual misconduct against producer Harvey Weinstein. The New Yorker followed five days later with a story that included rape accusations against the mogul. (Weinstein has denied all allegations of nonconsensual sex.)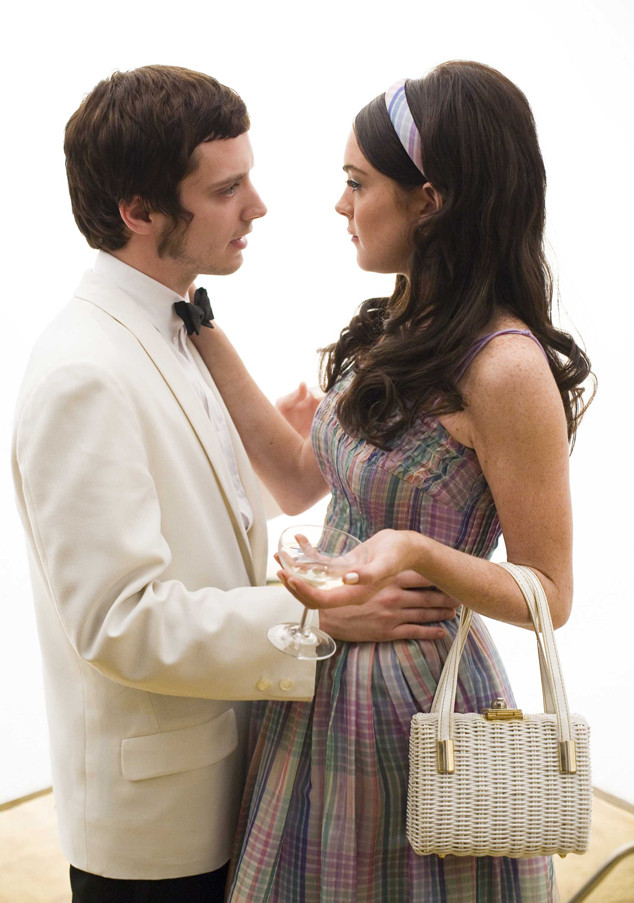 "I feel very bad for Harvey Weinstein right now. I don't think it's right what's going on," Lohan said in an Instagram Story video in response to the media frenzy. "I think Georgina needs to take a stand and be there for her husband." The day after Georgina Chapman announced that she was leaving her husband of 10 years, Lohan told Daily Mail TV, "I am saddened to hear about the allegations against my former colleague Harvey Weinstein. As someone who has lived their life in the public eye, I feel that allegations should always be made to the authorities and not played out in the media." (The Weinstein Company produced Bobby and Dimension Films made Scary Movie 5.)
She reiterated to The Times in the U.K. this summer that, while she supported women and however they wanted to deal with their experiences, only by reporting it to the proper authorities could they "make it a real thing." 
"I think by women speaking against all these things, it makes them look weak when they are very strong women," Lohan said. "You have these girls who come out, who don't even know who they are, who do it for the attention. That is taking away from the fact that it happened." (She had said something similar to the New York Times not long beforehand, the she felt "when women show fear, I feel like that makes us powerless.")
That was understandably misconstrued, so she quickly clarified in a statement to People: "The quote solely related to my hope that a handful of false testimonies out of a tsunami of heroic voices do not serve to dilute the importance of the #MeToo movement, and all of us who champion it. However, I have since learned how statements like mine are seen as hurtful, which was never my intent. I'm sorry for any pain I may have caused.
"I feel very strongly about the #MeToo movement and have the utmost respect and admiration for the women brave enough to come forward and speak out about their experiences. Their testimony has served to protect those who can't speak, and give strength to those who have struggled to have their voices heard."
By then a year and a half into the Trump presidency, Lohan told the New York Times, "Here's the thing: very simple with politics. He's the president. No matter what anyone says, he's still the president. I have no feeling. I have no emotion." She knew Tiffany, Trump's daughter with second wife Marla Maples, and she was "a really sweet girl."
Lohan didn't mention Islam, but she said she still meditated twice a day (advice from Oprah that stuck), and she was working on adapting Tina Theskis' 2017 thriller The Honeymoon for the big screen. She was planning to open another club on the Greek isle of Rhodes and envisioned having her own island paradise in Dubai.
At the same time, she informed the New York Times that she only did paid photo shoots, so the paper couldn't take her picture to go with its article. So the Times, which doesn't pay photo or interview subjects, incorporated a 2015 photo in a new illustration.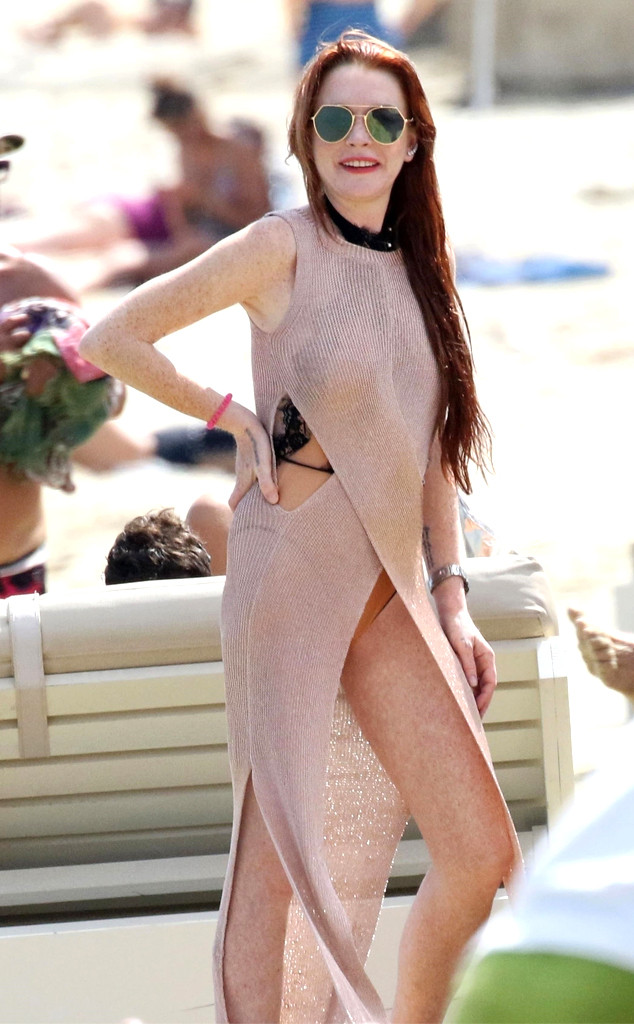 About a month later, MTV announced that Lohan Beach Club was a go, with Lindsay serving as an executive producer in partnership with the network and Bunim/Murray Productions.
Last month, Tyra Bankstold E! News that her producers had come up an "interesting, creative way" to have Lohan involved in Life-Size 2, a planned sequel to the 2000 Disney Channel movie Life-Size, in which a 13-year-old Lohan's doll comes to life—and it's Banks!
"I talked on the phone with Lindsay a couple of months ago," Banks said. "I am proud of her. She is actually creating this, like, club dynasty!"
Lohan, her various irons in the fire, told the New York Times, "I'm a normal, nice person. A good person. I don't have any bad intentions. And my past has to stay in the past. Like, people have to just let go of it and stop bringing it up because it's not—it's gone.
"It's dead. And that's the most important thing to me."
Julien Hekimian/Getty Images
However, as a plan to do a reality show would indicate, she's not eschewing the spotlight.
Last Tuesday she attended the star-packed Saint Laurent show in Paris with her model brother Dakota Lohan, the two of them joined in the front row by Alison Brieand Dave Franco, Rosie Huntington-Whiteley, Kate Moss, Cindy Crawford, Nicole Richie and many others. But then, as Friday became Saturday, Lohan posted video she shot as she trailed a family (supposedly in Moscow, according to TMZ) and, effecting a thick accent, accused the adults of trafficking the children and "ruining Arab culture," and she encouraged the kids to go with her.
After a woman appeared to hit Lohan, the stricken star clutched her cheek and, turning the camera on herself, gasped, "You guys, I'm so scared."
Lohan, in turn, has alarmed her family.
A source , "Lindsay hasn't changed whatsoever."
"The public outbursts are what really stress everyone out and last night's was bad, even for Lindsay," a source told Us Weekly Sunday. "People around her are worried and her not living in the States makes her less accountable. Lohan's longtime publicist, Hunter Frederick, is heading to Paris to check in on her."
She was photographed on Monday in the City of Light, walking on Avenue Montaigne and smiling, as if nothing strange had happened at all.